---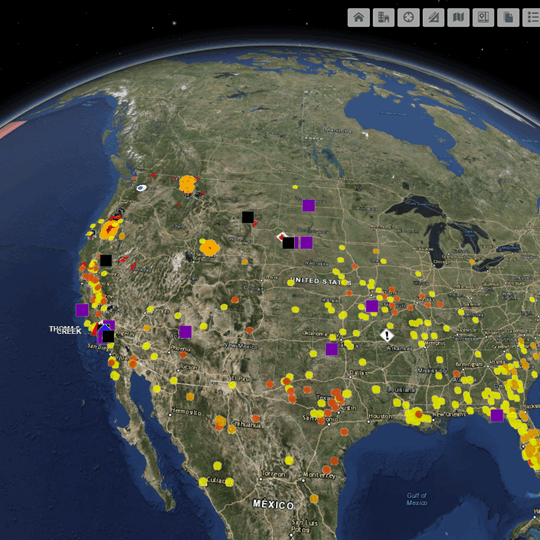 NIFC Enterprise Geospatial Portal Suite and ANF Pre-Attack Platform
DSoft Technology provides project management, design, development, programming and system administration necessary for new development and ongoing support of the Enterprise Geospatial Portal (EGP), a suite of web-based applications for coordinating wildland fire fighting efforts at the national level among six federal agencies (US Forest Service, National Park Service, Bureau of Land Management, Bureau of Indian Affairs, US Fish & Wildlife Service, and the US Fire Administration) and the National Association of State Foresters.
EGP is sponsored by the National Interagency Fire Center (NIFC) to collect data, provide operational support, and support risk-management planning.  The EGP uses Geographical Information System (GIS) maps to deliver real-time two-dimensional (2D) and three-dimensional (3D) renderings of fire perimeter and operational fire-fighting activities. 
The FireGlobe application displays operational data for active and historical wildland fire incidents.  FireGlobe displays wildland fire perimeters and operational resource data on a 3D display allowing incident personnel to view data in a terrain-mapped representation.  FireGlobe provides extensive GIS services including the ability to display layers such as weather, residential densities, wildlife areas, and jurisdictional boundaries.
The custom-built FLIGHT module within EGP simplifies the otherwise complex coordination and cost capture of federal and contract airborne firefighting resources. Air Tanker Base managers use FLIGHT to share incident aviation resource use and cost information in a manner that provides a seamless integration of information within a single tool for tracking aircraft and retardant use data. FLIGHT facilitates a life cycle resource data entry capability by field managers, real time information query by stakeholders, and long term warehousing of data for research and analysis.
Lightning Viewer ingests Bureau of Land Management lightning strike data to enable predictive services as well as post-incident fire investigation forensics.  The Lightning Viewer provides enhanced GIS querying including time frames, geographic boundaries, and analytical tools such as counts and time-sequenced animations.
Angeles National Forest (ANF) Fire & Aviation Management Program in California operates in one of the most complex and dynamic fire environments in the nation, spanning from Los Angeles to San Bernardino and which experiences a year-around fire season. Within 60 days after contract award, DSoft Technology deployed the Pre-Attack Platform tailored for ANF to support the interagency fire community with a common operating picture for planning and execution within this densely populated wildland-urban interface.
SERVICES
---
Website Development

Project Management

IT Support

Data Analytics
CLIENT
---
United States Forest Service
Through the operational use of the app we have been able to rapidly assess protection responsibility and values at risk. Additionally, the app has enabled us to share a common operating picture amongst responders of operational preattack information such as fuel breaks and indirect dozer lines.