DSoft Technology strongly believes in supporting our community and the organizations that share the same beliefs we do. We urge you to join us in supporting Disabled American Veterans and the Colorado Springs Rescue Mission, which are both highlighted below:
Disabled American Veterans
As a Service-Disabled, Veteran-Owned Small Business (SDVOSB), DSoft Technology takes pride in supporting Disabled American Veterans (DAV). DAV is a nonprofit charity that provides a lifetime of support for veterans of all generations and their families, helping more than 1 million veterans in positive, life-changing ways each year. The organization provides more than 700,000 rides for veterans attending medical appointments and assists veterans with more than 300,000 benefit claims annually. In 2015, DAV helped attain more than $4 billion in new and retroactive benefits to care for veterans, their families and survivors. DAV is also a leader in connecting veterans with meaningful employment, hosting job fairs and providing resources to ensure they have the opportunity to participate in the American Dream their sacrifices have made possible.
With almost 1,300 chapters and 1.3 million members across the country, DAV empowers our nation's heroes and their families by helping to provide the resources they need and ensuring our nation keep the promises made to them. 
Please join DSoft Technology in making a donation to the DAV.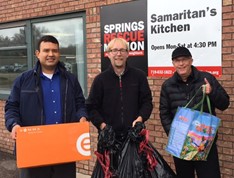 Springs Rescue Mission
The Springs Rescue Mission has a special vision to see lives transformed and filled with hope as our community works together to fight homelessness, poverty and addiction. Its mission is to mobilize the community to provide relief, rehabilitation and empowerment services through eight special programs: Samaritan's Kitchen, Winter Homeless Shelter, Supportive Family Services, Resource Advocate Program, New Life Program, Family Mentor Alliance, Graduate Services, and the Mission Inn. DSoft Technology's donation last year to the Springs Rescue Mission made it possible for the organization to feed and care for about 1,269 people.  Please join DSoft Technology in making a donation to the Springs Rescue Mission.