Nation's Finest Data Visualization
VIEW ALL
---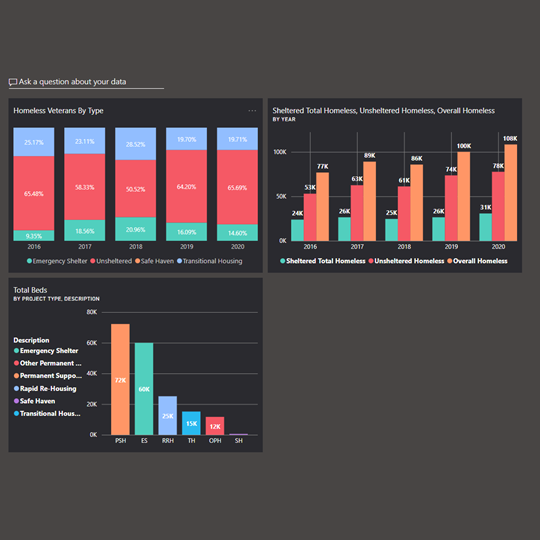 Nation's Finest Data Visualization
Nation's Finest is a 501(c)(3) non-profit organization headquartered in Santa Rosa, CA, which provides critical services and support to Veterans and their families. They focus on underserved (mostly rural) areas in California, Arizona, and Nevada. Services include transitional housing, permanent supportive housing, homelessness prevention, employment services, mental health, and behavior health.
Using Microsoft Power BI and publicly available data from the US Census Bureau, Housing and Urban Development (HUD), and the Department of Veterans Affairs (VA), DSoft Technology designed and created an interactive dashboard to visualize Veteran demographics and the services available. Map boundaries include state, county, and HUD Continuity of Care (CoC) regions. The Power BI solution has filtered reports to compare different geographic regions at a point in time and to view the same region for changes over time. 
This data visualization platform produces geographically oriented, actionable knowledge for Nation's Finest resource allocations within currently serviced area and identifies new areas for investment. Nation's Finest anticipates using this tool in planning their expansion of services to other states.
SERVICES
---
Data Analytics and Visualization
DSoft Technology configured Power BI for Nation's Finest leaders to more easily slice and understand demographic data by geographic area and trends over time. This is a powerful capability to inform investment decisions that will serve Veterans where their needs are greatest.