Technical Services
Technology Project, Program and Portfolio Management
Technology Project, Program and Portfolio Management
Project and portfolio management are required to manage scope, identify and mitigate all risks, and ensure proactive and effective support throughout the life of the project to help prevent any problems before they occur.  DSoft Technology provides a responsive core project management capability supported by Colorado-based corporate technical and managerial staff skilled in government and commercial project management efforts.  DSoft Technology's company organization seeks to balance the agility and responsiveness of a small business with the technical and administrative depth of a larger firm.  We use a short, direct "chain of command" from our Product Manager (PM) to our corporate leadership, with a direct channel of communication from the client back to corporate level to provide weekly quality control oversight to ensure project quality is maintained and that corporate resources are used appropriately to ensure on-time delivery.  You get our entire team focused on your success.
We use a best practices Plan-Do-Check-Act (PDCA) approach, combined with best practices from the Project Management Institute. PDCA is an approach by which the requirements, design and development are planned and executed in a continuous feedback loop so managers can identify, monitor and specifically improve the designated parts of the process and align with our Agile iterative development methodology.
Portfolio Management is the centralized management of the processes, methods, and technologies used by project managers and project management offices to analyze and collectively manage current or proposed projects based on numerous key characteristics. The objectives of Portfolio Management are to determine the optimal resource mix for delivery and to schedule activities to best achieve an organization's operational and financial goals, while honoring constraints imposed by clients, strategic objectives, or real-world factors.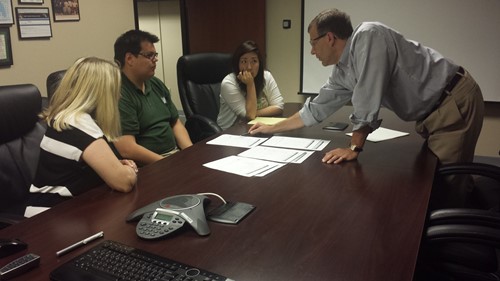 ---