Custom Software and DevOps
Microsoft Gold Partner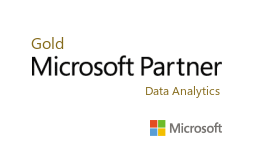 As a 10-year Microsoft Certified Partner with professional credentials in 6 core Microsoft competencies, DSoft Technology has Microsoft Certified developers in SQL Server, Web, and Windows Development and Application Integration. The criteria to qualify for Microsoft competencies is comprehensive, requiring partners to pass technical exams and business assessments based on the latest Microsoft product versions, acquire certifications, and provide customer references per competency. Currently there are more than 650,000 Microsoft partners worldwide eligible to attain these competencies.  Of these, fewer than 5% have achieved one or more of the 25 available competencies. DSoft Technology has accomplished 6 gold competencies placing DSoft Technology in the top .5% of Microsoft partners worldwide.
Our Microsoft competencies showcase our expertise in and commitment to today's technology market and demonstrates our deep knowledge of Microsoft and its products. We accelerate our customers' success by serving as their technology advisers for their business demands and future growth.
Application Integration
Application Integration focuses on connecting different parts of the business to increase productivity using tools like BizTalk.
Data Analytics
Data Analytics focuses on analyzing historical and real-time data to generate insights and create actionable plans.
Windows and Devices
Attaining the Windows and Devices competency demonstrates partner expertise in designing, deploying and supporting desktop solutions based on the latest Windows 10 operating system and on other products like Windows 8, Microsoft Desktop Optimization Pack and Microsoft Office productivity software.
Application Development
Recognizes partner's expertise in developing innovative applications on the Microsoft platform and using Microsoft development tools. Applications can be custom or commercial, on-premises or in the cloud.
Data Platform
Data Platform certification confirms that we have the broad set of skills needed to build and administer enterprise-scale data solutions both on-premise or in cloud environments.
DevOps 
DSoft Technology's Microsoft professionals combine people, processes, and technologies to continuously deploy and integrate software and services that meet end user needs and business objectives using tools/processes such as Azure, Docker, automated unit testing, and configuration build strategies.