---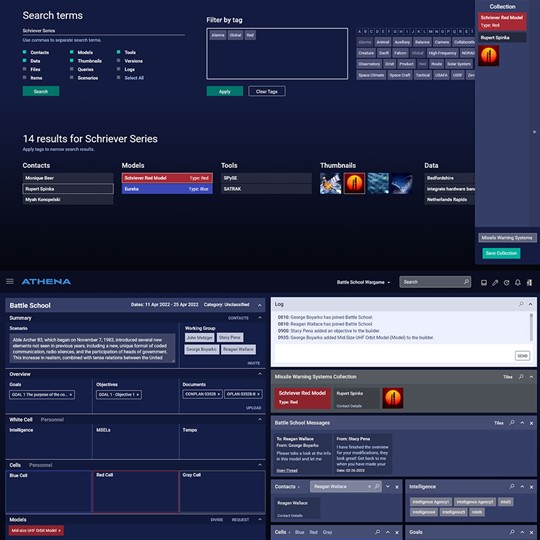 ATHENA
ATHENA is a digital repository and collaboration tool built for facilitating Model-Based Systems Engineering (MBSE) development. Earlier versions were developed to support the Space Warfighting Analysis Center (SWAC) and the Space Security and Defense Program (SSDP). 
ATHENA has since expanded to meet the needs of users across security classification levels, from unclassified all the way to SAP enclaves.
ATHENA's massively user-centric interface powers an intuitive, behavior-driven search engine. Users can quickly find and retrieve relevant content from thousands of items in the Postgres data lake using keywords and tags, and mix-and-match content to build their own complex projects through a simple drag-and-drop interface. 
The flat directory structure eliminates folder trees, making it virtually impossible to move or lose a file, while the relational database manages the connections between pieces of content. Account administrators can fine-tune user permissions and access for greater hold on sensitive information.
The ATHENA project team adhere to Scrum (Agile) processes, providing continuous design, development, and integration of features to support current and future customers. For more information, please
contact us
and mention ATHENA in your message.
Technologies Used:  Vue, Vuetify, C#, Entity Framework, DotNetCore, Docker, Postgres